Government orders council taxpayers to pay extra for police as crime rises
14 December 2018
Independent
The government has called for a nationwide increase in council tax for increased police funding amid rising crime and violence.
Ministers were accused of "shunting the cost of policing" onto the general public with the funding settlement.
Announcing the plans on Thursday, policing minister Nick Hurd told MPs up to £970m could be raised in England and Wales in 2019-20.
But £500m of that will only materialise if local Police and Crime Commissioners (PCCs) increase council tax precept by up to £2 a month per household, or £24 a year.
It is the second year in a row that the government has called for increased funding to be generated by taxpayers, amid accusations that its own austerity policies have worsened the causes of crime.
"We do not take that decision lightly because we know that money is tight for many people," Mr Hurd said. "We are determined to make sure the police have the powers and resources they need to respond to changing demand."
The shadow policing minister, Louise Haigh, said the system created a "postcode lottery" where councils were able to raise vastly different amounts of money depending on house prices.
"The government today are once again confirming their intention to pass the vast majority of the increase in this settlement onto local ratepayers to fund the police," she added.  "This is perverse, it will not meet need and it is fundamentally unfair."
It comes after a Home Affairs Committee report warned of "dire consequences for public safety and criminal justice" if police funding was not increased, saying the service was at risk of becoming irrelevant as the proportion of solved crimes falls.
Sajid Javid has repeatedly vowed to fight for more cash from the Treasury since taking up his post as home secretary earlier this year, winning a warmer reception from officers than his predecessors Amber Rudd and Theresa May.
He hailed the settlement as the "largest increase in police funding since 2010", adding: "I have listened to police and will continue to give them my full support."
The settlement was announced as new figures showed the highest number of knife crime offences since 2008 are being dealt with by the criminal justice system, with a fifth committed by children.
Mr Hurd said officers were "bearing down on the worst spike in serious violence and knife crime that we have seen in a decade".  "There has been a major increase in the reporting of higher-harm, previously hidden crime such as child sexual exploitation," he added.  "This settlement combines increased central funding with increased local contributions to policing.  "It will allow PCCs to manage their costs while maintaining their plans to recruit and fill capability gaps, not least detectives."
Of the proposed £970m rise, £500m would come from PCCs increasing council tax precept and another £161m would come in government grants.
A further £150m will be available to pay into police pension pots after the Treasury announced changes in contributions that created a budget shortfall of £165m in 2019-20.
An extra £59m will be given towards counter-terror policing and £90m is being made available to tackle economic crime, fraud and cybercrime, as well as child sexual exploitation.
Mr Hurd said the settlement would see every force's funding "protected in real terms" and that the government had recognised "real pressure on our police system, with demand rising and becoming increasingly complex and resource-intensive".
He acknowledged that inflation and a scandal over alleged data tampering in forensics had increased police costs and added: "This settlement means that, as a country, we will be investing next year up to £14bn in our police system if all PCCs use full precept flexibility, that would represent increased public investment of £2bn compared to 2015-16."
The Home Office said police forces have pledged to provide £120m in commercial and back office savings by 2021 and published financial reserve strategies.
John Apter, chair of the Police Federation, called the settlement a short-term "sticking plaster"
"They are passing the buck of funding the police service to the public by doubling the council tax precept that PCCs are allowed to charge," he added. "It is the government's austerity policies which have seen police budgets slashed by 19% per cent in real terms. "This is why policing is in crisis and our members are on their knees trying to keep up with the rising tide of crime with nearly 22,000 fewer officers since 2010." 
The package includes £14m for policing in London, which has seen an increase in murders this year.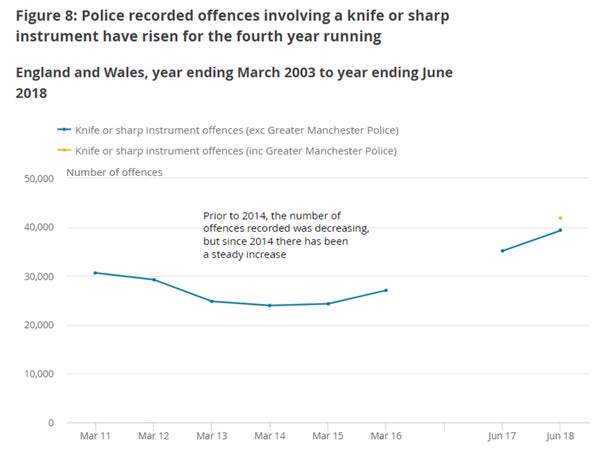 But mayor Sadiq Khan said the additional funding presents a "tiny fraction" of government cuts to the Metropolitan Police since 2010, predicting that officer numbers would continue to fall in the capital.
"We've had months of warm words from the home secretary about the desperate need for more government funding in order to tackle violent crime, but the government have fundamentally failed to back that up with real money," he added.
"The harsh reality is that the government is shunting the cost of policing onto London council taxpayers, which will not fill the massive financial black hole and will hit London's poorest hardest."
The National Police Chiefs' Council said forces had already made substantial savings and delivered reforms.
"The additional funding through the police grant will help forces meet the costs of government pension changes and should allow chief constables and police and crime commissioners to avoid making further cuts," said Chief Constable Dave Thompson, the lead for finance. 
"We are continuing to work with police and crime commissioners and the Home Office to make an evidence-based case for increased investment and plans to drive productivity across policing for the next government spending review."
Roger Hirst, the Association of Police and Crime Commissioners finance lead, said the settlement would allow PCCs to deal with immediate cost pressures on inflation and pensions. 
He added: "The decision to allow further flexibility around council tax precept levels will also allow for greater investment in local policing priorities, as set out in our local police and crime plans. We know this is an area the public want us to invest more in, helping to keep our communities safe and victims supported."